Ace holiday give you a unique and unforgettable Passover
from 9 to 19 April
Lido di Jesolo , Venice
Cesare Augustus Hotel **** sup
On the Italian Riviera.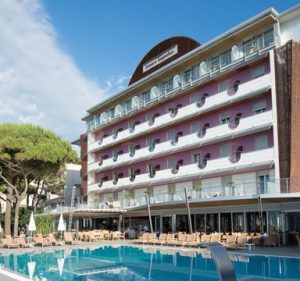 Spend a fabulous pesach in Lido di Jesolo Venice, Italy. This year, ACE Holiday has chosen for you an elegant hotel located on the stunning Italian seashore.
The 4****sup, Cesare Augustus Hotel, situated in the city centre, is a modern, comfortable hotel with spectacular sea views and beautiful scenery.
When you want to relax, the bar and lounge will be open during the day. A choice of complimentary tea, coffee, soft drinks and cakes will be available.
The Cesare Augustus Hotel offers comfortable, air conditioned rooms (that have either a bath or shower), equipped with satellite TV, safe, telephone, hair dryer and mini-fridge. Top floor rooms have access to the large terrace with panoramic sea views.
Unique and unforgettable pesach !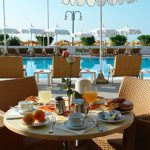 Our head chef and his team will treat you to gastronomic quality meals. Food will be available in the large lobby-lounge, reception area, bar and attractive restaurant.
Kashrut: Strictly Glatt kosher – no kitniot – under the supervision of Rabbi Mordechai Fhima from London. A resident Shomrim will be on the premises throughout the entire Pesach period.
Synagogue services (Ashkenazi and Sepharadi) are held daily. The Sedarim and prayers will be performed by our Rabbis and Chazzanim. You can choose to attend our Communal Sedarim run by our Rabbi or have your own individual Sedarim.
An inspiring programme of conferences and Shiurim based on various themes will be given. During your stay, we will organise amazing parties in the evening. The very
famous Mimouna will be unforgettable with a selection of tasty sweet and savoury dishes on offer.
Excursions:
In addition to the unforgettable city of Venice and all of its historical places of interest, like the Jewish ghetto, and ancient synagogues, excursions will be available to dozens of touristsites all around Venice, including the lagoon islands, Verona, Padova, Vicenza, Terrazzo, Trieste, Marostica, Bassano.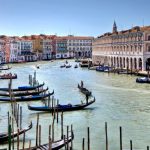 Informations:
By air:
• Venice Marco Polo airport
• Venice Treviso airport
By train:
• Venice Mestre
Hotel website: www.HotelCesareAugustus.com